Study lays foundation for next AASHTO National Strategic Highway Safety Plan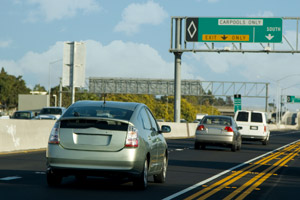 UNC Highway Safety Research Center (HSRC) researchers have recently completed a national evaluation of highway fatalities. The Surface Transportation Safety Investment: Update Since 2004 report was requested by the American Association of State Highway and Transportation Officials (AASHTO). It assesses progress toward AASHTO's goal to reduce traffic fatalities by 1000 per year, in order to cut highway fatalities in half over the next two decades. This goal would mean reducing fatalities from an average of approximately 40,000 currently to 20,000 fatalities per year by 2028.
In its Strategic Highway Safety Plan of 2004, AASHTO outlines 22 emphasis areas to address the problem of fatalities and injuries on the nation's highways. The 22 areas include strategies for engineering, education, enforcement, and emergency services. Accordingly, each state develops its own Strategic Highway Safety Plan (SHSP), focusing on various areas of emphasis. The emphasis areas addressed in the SHSP differ by state according to their specific priorities.
Examples of the 22 emphasis areas include "reducing impaired driving," "making walking and street crossing safer," "keeping vehicles on the roadway," and "design safer work zones."
The HSRC study reviews national and state fatality data from 2004–2007. Utilizing Fatality Analysis Reporting System (FARS) data, the researchers were able to determine the fatality trends in many of the 22 emphasis areas. Collectively, they found that the states were able to reduce fatalities in nearly all of the emphasis areas to which they were able to clearly attribute fatal crashes. The only two categories that saw increases in fatalities were "unlicensed drivers" and "motorcycles."
During the four-year period evaluated (2004-2007), highway fatalities decreased about 600 fatalities each year. Though not at the target set by AASHTO, the trend is a sign that the states have made significant progress toward the goal. "This reiterates the idea that a comprehensive safety plan does much to focus and maximize the efforts of the entire highway safety community," the report states.
The challenge now is to find new ways to experience further declines in highway fatalities. To that end, the report offers potential strategies for each emphasis area, highlighting specific interventions, such as the use of alcohol ignition interlocks and shoulder rumble strips, to increase the safety of highway users.
The report was prepared by HSRC researchers Daniel Carter, Sarah Smith, Raghavan Srinivasan, and Carl Sundstrom. In May 2009, Carter presented the findings of the study to the 2009 AASHTO Safety Leadership Forum IV. Carter will again present the report in September to the AASHTO Standing Committee on Highway Traffic Safety and the Subcommittee on Safety Management, as AASHTO begins to draft a new National SHSP. Copies will also be sent to the Governors Highway Safety Association for distribution to its members.