Emphasizing 9 out of 10
The common belief that teenagers spend much of their time talking or texting while driving is wrong, badly wrong. Ninety-one percent of the time, teens are off the phone while driving. This finding is the centerpiece of an exciting new study being conducted by the Center for the Study of Young Drivers (CSYD) at by the UNC Highway Safety Research Center (HSRC) focusing on high school students in central North Carolina. The study is sponsored by the National Highway Traffic Safety Administration, with oversight by the Pacific Institute for Research and Evaluation.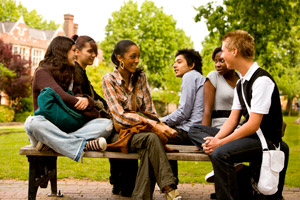 The study uses a social norms approach to ensure teens know about the "9 out of 10" fact. A new Web site, http://www.hsrc.unc.edu/9outof10, highlights the study results. A series of activities and contests — some using social media — will begin in the fall of 2009, and spread knowledge about this simple fact among students in North Carolina. By using a social norms approach, the study attempts to debunk the commonly held belief that teens often talk or text while driving.
To arrive at this fact, researchers at HSRC observed nearly 20,000 teenage drivers between 2006 and 2008 in North Carolina as they left high schools at the end of the school day. A total of 25 high schools across the state were included in the study. In some cases, drivers were observed at the exits to school parking lots. In others, they were observed just down the road from high schools. In addition, questionnaires were mailed to over 2,000 high school age teens in North Carolina to learn their thoughts and opinions about cell phones and driving.
Although the researchers found that many teenagers use their phone at least sometimes while driving, it was clear that most teens who talk or text while driving don't do it all that often. The main goal of the present study is to increase recognition and understanding of the "9 out of 10" fact among teens, parents, teachers, the media, police, and the community. Follow-up observations will be conducted at the same 25 high schools to determine whether the program had an effect on cell phone use among teen drivers.