International speakers visit HSRC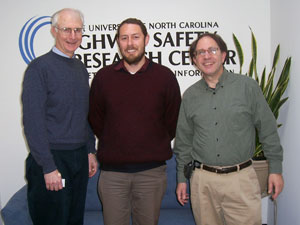 Left to Right: Forrest Council, former director, HSRC; Glen Koorey, senior lecturer, University of Canterbury; Charlie Zegeer, director, Pedestrian and Bicycle Information Center.
The UNC Highway Safety Research Center recently hosted two international guests at the start of 2009. Rob Methorst, a senior advisor with the Dutch Ministry of Transport, and Glen Koorey, senior lecturer with the University of Canterbury, both visited the Center to discuss their international perspective on pedestrian safety with the UNC community.
Methorst presented a lecture titled "Quality for Pedestrians: Pitfalls in Policy Making " on Friday, March 20, 2009. The lecture, in which Methorst discussed his international perspective on the ingredients needed for successful policy making to improve conditions for pedestrians, was cosponsored by the UNC Highway Safety Research Center, the UNC Injury Prevention Research Center, the Carolina Transportation Program and the Department of City and Regional Planning.
Koorey presented at an HSRC "Lunch 'n Learn" event, a monthly Center-sponsored event for HSRC staff to discuss current highway safety research projects. Koorey discussed his current PhD research underway in New Zealand, "Incorporating Safety into Rural Highway Design," aimed at developing crash models for rural highway geometry, particularly the effect of various curve attributes.