Kansas Teenage Driver Safety Project leads to new GDL adoption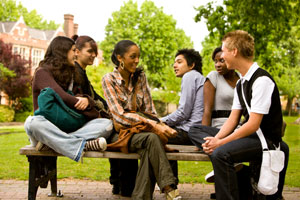 Motor vehicle crashes are the leading cause of death among teenagers in Kansas and throughout the United States. A significant step to address this concern was recently adopted by the Kansas Legislature, as a study by UNC Highway Safety Research Center (HSRC) researchers helped pave the way for the acceptance of Graduated Driver Licensing (GDL) for young drivers in the state.
To begin addressing motor vehicle crashes among teens, the AAA Kansas Traffic Safety Committee spearheaded the Kansas Teenage Driver Safety Project in 2007. As part of the project, AAA Kansas asked HSRC's Center for the Study of Young Drivers (CSYD) to gauge the extent to which parents of young drivers approved of several integral elements of GDL.
"Many had thought these would be unpopular among Kansas' rural residents," said Rob Foss, senior research scientist and director of the CSYD. "But previous research in North Carolina had suggested that was probably a misperception of parents' priorities."
For the study, households were randomly selected using stratified sampling, to ensure that all regions of the state were appropriately represented. Because crash likelihood and severity vary by "ruralness," the state was divided into four strata to represent both geographic region (western-eastern) and degree of "ruralness" – that is, rural vs. town vs. large city driving environment. Results indicated that both parents and teens approve of the kinds of protective restrictions that characterize GDL systems and that those living in the most rural locations were equally as supportive as those who live in medium size towns and large metropolitan areas.
AAA Kansas shared the results of the CSYD study with the public, media, and legislators as part of their efforts to encourage adoption of GDL in Kansas. In February 2009, a GDL bill was passed in the Kansas Legislature that will go into effect January 1, 2010. CSYD researchers plan to examine the effects of this new licensing system in 2011and 2012, comparing some of the data obtained from this past round of teenager interviews to similar information to be collected with a group of teens licensed under the new system.