HSRC News Briefs
Ben W. Murch Elementary School receives 2009 James L. Oberstar Safe Routes to School Award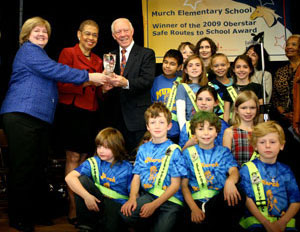 The National Center for Safe Routes to School (NCSRTS) announced Ben W. Murch Elementary School in Washington, D.C., as recipient of the 2009 James L. Oberstar Safe Routes to School Award, a national award for outstanding achievement in implementing a Safe Routes to School Program. U.S. Rep. James L. Oberstar, chairman of the House Committee on Transportation and Infrastructure, presented the award October 26, 2009 to Principal Dawn Ellis and the school's 17-member student safety patrol. The school was recognized for excellence in building community support and infrastructure for safe walking and bicycling to school.
NCSRTS is housed within the UNC Highway Safety Research Center (HSRC) and funded by the U.S. DOT Federal Highway Administration.
NCSRTS selected Murch Elementary School as this year's recipient based on its exemplary Safe Routes to School program successes, including: reversing school policy that prohibited students from bicycling to school without special permission; building community support for walking and bicycling to school, including neighborhood support for new sidewalk construction; and implementing an effective student Safety Patrol program to enforce safe driving behavior around the school.
The James L. Oberstar Safe Routes to School Award is named for the congressman to honor his dedication to American schoolchildren as the pioneer for the National Safe Routes to School Program. Chairman Oberstar sponsored the Safe Routes to School legislation that strives to create safe settings to enable more parents and children to walk and bicycle to school.
Read more at
http://www.saferoutesinfo.org/news_room/ 2009-10-26_Oberstar%20Award.cfm.
Delegation from Turkmenistan visits HSRC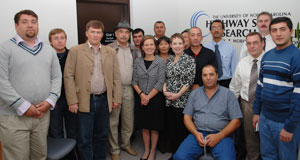 A delegation of emergency medical professionals from the Republic of Turkmenistan visited HSRC on October 14, 2009. The delegation shared road safety issues from their country, and heard from HSRC researchers about U.S. conditions and approaches to various aspects of road safety, including infrastructure design and operations, occupant protection programs, licensing of young drivers, and programs to protect pedestrians.
The visit was sponsored by the Community Connections program of the International Affairs Council, run in conjunction with World Learning and funded by USAID. The program aims to share U.S. expertise with business entrepreneurs, government officials, and professionals from Russia and the former Soviet states.


Linking sleepiness to transit
On October 9, 2009 Dr. Barbara Phillips of the University of Kentucky HealthCare Good Samaritan Sleep Center led a public seminar entitled "Sleepiness: The Case for Public Transportation to Promote Public Health." The seminar was cosponsored by HSRC and the Carolina Transportation Program.
Dr. Phillips made the case for developing and expanding the U.S. infrastructure of public transportation to help reduce drowsy driving-related crashes and fatalities. The research she presented looks at causes of sleepiness, including sleep loss, shift work, and sleep disorders. She finds that the fatigue that results from these conditions is a significant factor for moving vehicle crash. Dr. Phillips suggests that expanding transit options is an approach that planners can take to mitigate the increased risk of crash.
Dr. Phillips is a member of the Federal Motor Carriers Safety Administration's Medical Review Board.
'Yield to Heels' day emphasizes pedestrian safety on UNC campus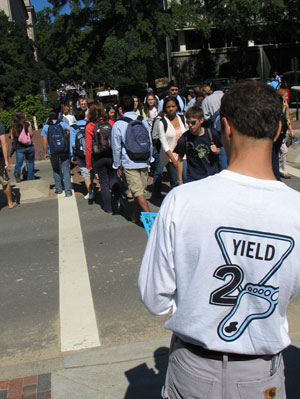 The University of North Carolina at Chapel Hill celebrated Yield to Heels Day on Wednesday, September 30. Coordinated by the UNC Department of Public Safety (DPS) and HSRC, Yield to Heels aims to clear up myths about traffic safety for both pedestrians and drivers.
Yield to Heels volunteers along with DPS officers promoted the message of pedestrian safety by distributing nearly 3000 educational fliers, while rewarding pedestrians obeying crosswalk etiquette with retro-reflective items and t-shirts.
Volunteers for Yield to Heels were provided by the Alpha Pi Omega service fraternity, Carolina Center for Public Service, and students who had previously enrolled in a Bicycle and Pedestrian planning course offered by the Department of City and Regional Planning.
For the first time in Yield to Heels' nine-year history, UNC Hospitals Police participated in the event, handing out an additional 3000 educational fliers at crosswalks in front of the UNC Memorial, Women's, and Children's Hospitals in an effort to spread the message of pedestrian awareness to another busy area on campus.
"Yield to Heels is a vital component of the continuing efforts to create a safe walking environment on and around the UNC campus," said David Harkey, HSRC director. "The one-day event is a great opportunity to remind pedestrians of the need to use caution at every street crossing and motorists of the need to travel slowly and be prepared for crossing pedestrians."
"This collaborative effort reflects our intention of instilling in both drivers and pedestrians a focus on safety," said Chief Jeff McCracken, director of UNC's Department of Public Safety. "At this time of year, the campus community stages many large-scale special events, and with waning daylight, there is an acute need to re-emphasize a universal understanding of pedestrian safety practices."
More information on pedestrian safety is available at www.hsrc.unc.edu or www.dps.unc.edu.
HSRC in the News
The following is a highlight of recent media stories that include information and research from the Center. Web links to the following news stories are time sensitive, so some stories might not be accessible after the initial publication date without required registration.
2 RSKY 2 TXT? Texting law yields greater liabilities for employers
Triad Business Journal
November 6, 2009
Chrysler vehicles to offer TV programs to go
Detroit Free Press
October 30, 2009
Government Eyes Crackdown On Texting And Driving
National Public Radio
September 30, 2009
Cellphone ban for drivers coming in late October
Guelph Mercury, Ontario
September 30, 2009
Campaign targeting texting teens
WTVD-TV Raleigh-Durham
September 29, 2009
Driven to Distraction: Truckers Insist on Keeping Computers in the Cab
New York Times
September 27, 2009
NTSB tells workers to hang up cells
USA Today
September 8, 2009
Video highlights danger of texting while driving
NPR
September 1, 2009