Deer crashes continue to rise in North Carolina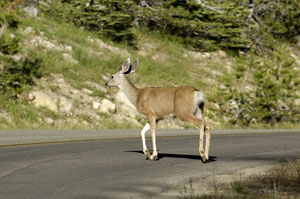 Motor vehicles crashes involving deer rose to an all-time high in North Carolina in 2008, even as the total number of motor-vehicle crashes and total vehicle miles driven dropped from the previous year.
Crashes reported to police involving deer last year on roadways in the state increased to 19,693, up from 19,277 in 2007. In that same period, total reported crashes fell from 224,307 in 2007 to 214,358 in 2008. Vehicle miles traveled also dropped, by 2 percent.Since 2004 reported deer-related crashes increased 27 percent, while total crashes during the same period decreased by 7 percent.
Of the total reported automobile crashes in North Carolina in 2008, deer were cited as a factor in 9.2 percent, up from 8.6 percent in 2007. Wake County topped the list with 1084 deer-related crashes. Other counties with high numbers of deer crashes in 2008 include Guilford, Rockingham, Duplin, Pitt and Mecklenburg.
While a crash involving a deer can happen at any time, drivers should be particularly careful both in the early morning hours and the early evening hours. Almost 80 percent of deer-related crashes in 2008 occurred between 6 p.m. and 6 a.m.
White-tailed deer can be seen on the move around North Carolina roadways at any time of year. However, 50 percent of all deer-related crashes occurred during the three months of October, November and December. Deer are particularly restless and agitated during these months due to mating season and locating new food resources.
While the figures reflect the total number of deer-related crashes reported to law enforcement agencies, there is anecdotal evidence that many more such crashes occur than are reported.
The complete deer-motor vehicle crash data for all North Carolina counties is available at
www.hsrc.unc.edu/safety_info/animal_vehicle/index.cfm.