HSRC launches national research program to measure the impact of Safe Routes to School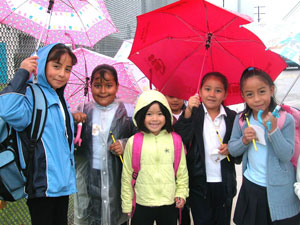 The National Center for Safe Routes to School (NCSRTS), housed within the UNC Highway Safety Research Center, has launched a comprehensive national research program to determine the impact of Safe Routes to School (SRTS) programs. SRTS programs, primarily funded in the U.S. through the Federal Highway Administration, work to enable and encourage children to walk and bicycle to school. The research program will result in the collection of nationwide SRTS-related data and the identification of effective SRTS strategies.
A number of researchers from HSRC contributed to the establishment of the research program. With the need for research data to be administered and submitted by local program managers, HSRC recognized the need for data collection materials to be as user-friendly as possible, while NCSRTS also provided technical support for questions and collection issues.
"We were very excited to have input and technical expertise from a variety of multi-modal transportation researchers at HSRC," said Lauren Marchetti, director of the National Center for Safe Routes to School. "Their experience in successful start-to-finish research programs helped to expand our thinking to ensure the most comprehensive research program possible."
Elements of the research program include:
Standardized Data Collection Forms: In 2007, NCSRTS developed two data collection forms for SRTS programs to use to identify frequency of various transportation modes for travel to school and parent attitudes that may influence whether children are allowed to walk or bicycle to school
National SRTS Tracking Database: The Center has developed a Web-based data entry system (www.saferoutesinfo.org/tracking) to collect the Safe Routes to School-related data being collected by programs. Programs can either enter their own data using the Web interface or send completed data collection forms to NCSRTS for processing. Using this information, the Center will be able to establish baseline information from which program elements will be evaluated.
NCSRTS Tracking Reports: The National Center releases quarterly SRTS Program Tracking Briefs to provide information about State SRTS programs. Each report presents, a different snapshot and brief analysis of one key trend across all State programs. These reports have tracked the increase in announced state SRTS spending from $17.6 million to $183.7 million and the growth of participating schools from 285 to 1833. To access the reports, please visit www.saferoutesinfo.org/resources/tracking-reports.cfm.
SRTS Strategy Evaluation: To support responsible use of resources and strategies that will improve walking and bicycling conditions or encourage use of existing facilities, NCSRTS will select specific SRTS strategies for evaluation. The Center will identify specific strategies for evaluation using both an expert panel and information from the Tracking Database. The expert panel may also decide to identify effective strategies for reaching specific populations such as those served by tribal schools or low income communities.
Safety Index Development: Engineers and other local transportation professionals have requested a tool to assist with the identification and prioritization of infrastructure improvement needs along school routes. NCSRTS will oversee a technical expert group in the review of existing instruments, testing and final development of a safety index to meet this need.
For more information regarding NCSRTS data collection and evaluation, visit http://www.saferoutesinfo.org/resources/index.cfm.