HSRC encourages pedestrian safety through 'Yield to Heels' campaign
The University of North Carolina at Chapel Hill is not much different from any other college campus. It is bustling with people — students, professors, visitors — all using different modes of transportation to get around campus. What does set UNC apart is that it was one of the first institutions of higher learning in the nation to be proactive about teaching pedestrian safety on campus through a pedestrian safety awareness campaign called "Yield to Heels."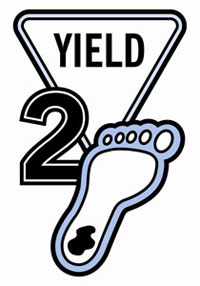 In 1999, UNC established the Pedestrian Safety Committee in response to the death of a UNC postdoctoral dentistry fellow who was struck by a car while crossing at a marked crosswalk on campus. In an effort to support and expand the efforts of the Committee, the University established the "Yield to Heels" campaign in 2001 to promote pedestrian safety on campus. The campaign is coordinated by the UNC Highway Safety Research Center and the UNC Department of Public Safety.
"Yield to Heels is a unique opportunity to stress the importance of safe street crossings to both pedestrians and motorists alike within the crossing environment," said David Harkey, director of the UNC Highway Safety Research Center. "We have had several pedestrian tragedies on and around campus during recent months so 'Yield to Heels' serves as an important reminder to stay alert and use caution while driving and walking in the vicinity of the campus. By encouraging an understanding and consideration among the groups, we hope to increase the safety of all road users across the campus."
In 2000, HSRC conducted a study of pedestrian activity around UNC Chapel Hill. Using 5 years of data between 1995 and 1999, HSRC researchers studied this crash data alongside perception data to determine what were considered to be four "hot spots" on campus for pedestrian crashes. Based on this data, student volunteers along with UNC Public Safety Officers are stationed at four of these identified "hot spot" intersections. Throughout the day, pedestrians, bicyclists and motorists passing through these intersections are educated on the importance of pedestrian awareness as volunteers pass out educational fliers and giveaways to highlight the need to "be aware, be safe and be considerate." Mobile road signs are also placed at the intersections to alert motorists.
"We are certainly pleased when students tell us they recognize the efforts of the campaign and let us know how important the effort is when they see us out there for Yield to Heels day. We consistently hear that Yield to Heels heightens awareness and serves as a good reminder of the need for everyone to travel safely throughout the campus," said Jennifer Bonchak, public relations coordinator for HSRC and "Yield to Heels" planning coordinator.
"Yield to Heels" day is held once during both the spring and fall semesters and is scheduled to take place on Wednesday, September 17. For more information on the "Yield to Heels" campaign, or to read safety tips for pedestrians and motorists, please visit http://www.hsrc.unc.edu/y2h/.