HSRC researcher presented with Lifetime Achievement Award
Bill Hall, manager of the UNC Highway Safety Research Center's Occupant Protection Program, was recently recognized for his important role in child passenger safety as he was presented with the first annual Bill Hall Lifetime Achievement Award, sponsored by the Governor's Highway Safety Program and the NC Dept of Insurance – OSFM, in conjunction with the NC Child Passenger Safety Training Committee.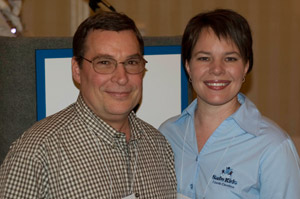 A researcher at HSRC for over 30 years, Hall has been involved in child passenger safety in NC from the beginning — before laws existed anywhere in the U.S. and before there was an organized effort to protect children from injury related to motor-vehicle crashes.
"Bill has remained incredibly steadfast in his focus to protect children in North Carolina and across the nation," said Forrest Council, former Director of HSRC. "He has stayed with this issue in times where available funding was good and when it was not so good. His successful career is proof positive of his excellent work and his gritty determination."
Recognizing the need for programs and education, he worked closely with colleagues at HSRC and the Governor's Highway Safety Program in the late 1970's and early 80's to help organize the establishment of infant carrier loaner programs through local health departments and local civic groups. He helped to develop and conduct educational programs for a wide variety of groups to place emphasis on the importance of child passenger safety and the need for correct usage of child passenger restraints.
Hall became a key player in the research that would demonstrate the urgency for child passenger safety laws on both the State and Federal level. He played a major role in the 1981 legislation in North Carolina that required the use of child passenger restraints. He became involved with the national organization focused on this issue - the National Child Passenger Safety Association - and served as the organization's president in the late 1980's. He has worked on numerous advisory committees and groups with the National Highway Transportation Safety Administration (NHTSA) and other national organizations.
While remaining dedicated to occupant protection, Hall has also been heavily involved in school transportation safety research and education, as well as a wide range of other projects with his HSRC colleagues ranging from large truck crash analysis to studying the transportation of mobile homes on North Carolina roadways.
Criteria for the Bill Hall Lifetime Achievement Award will be set by the Child Passenger Safety Committee and modeled after the impact Hall's work has had on child passenger safety in North Carolina.