Center to evaluate pedestrian safety guide for neighborhood residents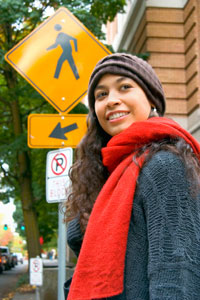 In 2007, 4,654 pedestrians were killed in traffic crashes in the United States, representing 11 percent of all fatalities. More than 70,000 pedestrians are injured each year, and pedestrian injury and fatality rates have not significantly decreased in the past five years. The personal and social cost of these injuries and deaths is considerable, and measures are needed to improve pedestrian safety.
One of HSRC's national clearinghouses, the Pedestrian and Bicycle Information Center (PBIC), has secured funding from the National Highway Traffic Safety Administration to evaluate the use of a community guide developed to assist neighborhood residents in setting up pedestrian safety programs. The PBIC will provide funding to 10 communities to perform the steps outlined in the "Resident's Guide for Creating Safe and Walkable Communities" while providing these communities with technical support in using the Guide.
The objective in awarding the funding will be to provide information, ideas, success stories, and resources to help neighborhood residents learn about issues that affect walking conditions. By using the funding and assistance from the PBIC, the community residents will be empowered to find ways to address or prevent their pedestrian problems and promote pedestrian safety. The Guide also contains fact sheets, worksheets, and sample materials that can be distributed or adapted to meet the needs of a community.
Through this project, the Center hopes to gain input from the participating communities to assess the usefulness and completeness of the Guide content, and identify necessary improvements to the content as well as additional support tools that may be needed. The project will involve developing and executing an objective site selection process to administer the funding to 10 community groups along with regular communication with communities to determine and meet their technical assistance needs. The Center will also develop and implement an evaluation plan that will ensure objective, relevant, high-quality feedback on the content of the Guide and recommendations for future materials to assist communities in promoting pedestrian safety.