New Zealand researcher compares highway safety to U.S. statistics
In 2005, there were more than 6 million traffic crashes in the United States, resulting in 43,443 fatalities. The fatality rate per 100,000 population was 14.66, which remains well above the rates of many developed countries. According to New Zealand highway safety researcher and civil engineer, Dr. Shane Turner, the fatality rate in New Zealand in 2005 was 9.9 per 100,000 population. New Zealand has experienced a 48 percent reduction in roadway fatalities over the past 20 years.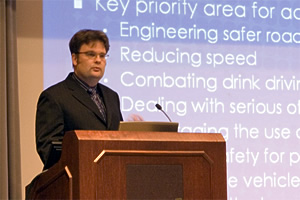 In a lecture sponsored by the UNC Highway Safety Research Center and the UNC Injury Prevention Research Center, Dr. Turner, who recently visited several researchers throughout the U.S. and Canada, addressed the predominant differences in highway safety between the U.S. and New Zealand in relation to, development of policies, implementation of engineering solutions, enforcement of laws and education of the general population.
"A substantial difference that I see is that highway safety and safe driving aren't priorities among officials on all levels of government in the U.S.," said Dr. Turner. "To raise awareness, decision-makers at all levels of government need to raise the profile of highway safety. Grassroot initiatives must continue to not accept the loss of life on roadways."
Dr. Turner outlined a number of suggestions in order for the U.S. to experience the same decline in roadway crashes as New Zealand including:
Place emphasis on safety auditing of new projects and learn from mistakes
Encourage officials at all levels of government to be champions of the issue
Continue to encourage the use of advocacy groups to ensure the topics of highway safety are on their politicians' agendas
Emphasize the importance of safety management systems and the development of a safety culture
Develop road safety committees across government agencies
Conduct safety comparisons of states and local councils