Tribal School Zones Toolkit offered as new pedestrian safety resource
Pedestrian-related fatalities among adults in the American Indian community are significantly higher than those of Caucasians or African Americans — 3.5 times higher. For children, the numbers are even more shocking with the fatality rate being four times that of the overall population.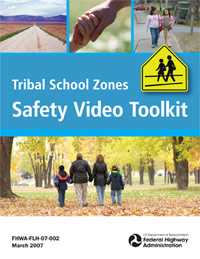 In response to this alarming trend, the US Department of Transportation Federal Highway Administration (FWHA) teamed with several partners, including HSRC, to create a series of resources to help address these issues among the tribal population.
The first part of the "Tribal School Zones Safety Video Toolkit" includes two videos. The first, "Safety Doesn't Happen By Accident," is an 8-minute video aimed at the 9-12 age group, but may also be appropriate for older and younger children. The video can be shown in the classroom, or at other school or community events. The second, "Pedestrian Safety: A New Tradition," is a 9.5-minute video aimed at the adult population including Tribal/Community Elders, parents, school board members, policy makers and older teens. Both videos aim to bring awareness to pedestrian issues, and individual and community solutions and tips to improve pedestrian safety to all age groups in Tribal communities.
The second part of the toolkit includes a booklet created by HSRC to accompany the 2-part video series. Designed to raise awareness among tribal communities and provide tools and resources to help communities address pedestrian awareness and safety, the 29-page booklet contains educational materials such as pedestrian safety tips for all age groups, promotional tips, and a resource sheet that outlines various organizations and governmental agencies that can provide assistance in addressing pedestrian safety concerns.
The Tribal School Zones Safety Video Toolkit is currently available.
For more information, visit www.fhwa.dot.gov/flh/safetyvideo.htm.