HSRC aims to provide support to older drivers and pedestrians
The senior population in North Carolina and nationwide is steadily increasing and on track for numbers to reach all-time highs. The UNC Highway Safety Research Center (HSRC) strives to better understand the factors that contribute to the unique needs of the senior driving and pedestrian population through a variety of research-based projects.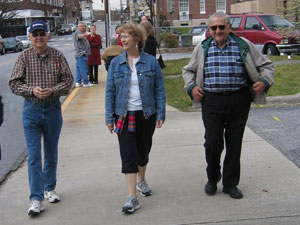 Supported by a grant from the Governor's Highway Safety Program (GHSP), HSRC helped to establish the North Carolina Senior Driver Safety Coalition in the spring of 2004. The Coalition has brought together representatives from key agencies and organizations across the state, including NCDOT, Division of Motor Vehicles, Division of Aging and Adult Services, AARP, AAA Carolinas, NC Medical Society and others.
"The overall goal of the Coalition has been to improve safe mobility for the State's growing elderly population," said Dr. Jane Stutts, Associate Director for Social and Behavioral Research at HSRC and Coalition chair.
In the summer of 2005, the Coalition was asked to take on the added role of facilitating an Older Driver Working Group (ODWG), under the umbrella of the state's Executive Committee for Highway Safety. In this role, the group was charged with recommending specific strategies for improving older driver safety. To date, the ODWG has presented four strategies to the ECHS, all of which have been approved. Those strategies include:
Improved signage at non-standard interchange approaches
Identification and improvement of hazardous intersections
Improved roadway and driving environments
Increased public awareness of issues and resources
Two additional strategies are currently being considered by the group: targeting the law enforcement community to educate them about issues affecting older drivers and actions they can take to increase community awareness of these issues, and targeting the medical community to identify and assist medically at-risk drivers regardless of age.
In addition to simply recommending strategies, the ODWG is committed to ensuring that the strategies it recommends to the ECHS are implemented, drawing from the resources that organizational members bring to the Working Group.
In addition to driving issues, HSRC is leading efforts to improve safety for older pedestrians. Funded by the federal National Highway Traffic Safety Administration (NHTSA), Walk Wise, Drive Smart is a senior pedestrian safety program coordinated by HSRC in partnership with the community of Hendersonville, NC.
With more than 31 percent of Hendersonville's population being 65 and older, it provides an ideal model community to implement the elements of the Walk Wise, Drive Smart program, which includes:
Conducting educational workshops and a series of walking audits of Hendersonville neighborhoods
Gathering extensive community feedback through surveys and interviews
Identifying elements needed to implement a pedestrian safety plan that is responsive to Hendersonville's needs
Pulling from successful elements in Hendersonville, the program aims to continue to develop and implement a model that can be replicated in similar settings in North Carolina and beyond.