North Carolina Child Passenger Safety Law celebrates 25 years
Attempt to buy a new car seat these days and the choices are overwhelming — a multitude of brands, colors, sizes, styles — it can make any consumer exhausted just looking at all of them and agonizing over choosing the best one to keep a child safe. Just 25 years ago, a car seat was a fairly unknown device, and child passenger safety a fairly overlooked notion.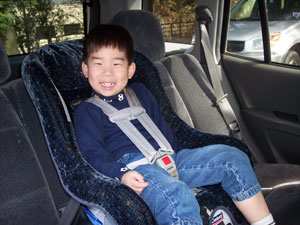 On July 1, the state of North Carolina will celebrate the 25th anniversary of the effective date of original Child Passenger Safety Law — which was: "an act to require passenger restraint systems for children under two years of age being transported by the childís parent who is operating his/her own family purpose vehicle."
A celebration of the passing of the original legislature will recognize key players in child passenger safety, including the UNC Highway Safety Research Center (HSRC), the Governor's Highway Safety Program (GHSP), the Department of Insurance, the NC Pediatric Society, and the Child Fatality Task Force — all of which continue to play an important role in the advocacy of child passenger safety, research and evaluation of effective methods of child restraint, or North Carolina state legislation.
The first sponsor of the Child Passenger Safety Law was Rep. George Miller of Durham. To many, this first Child Passenger Law seemed rather weak and lacked the provisions that would truly promote child passenger safety. But it was the opinion of Rep. Miller and others that the passing of some kind of law, albeit devoid of certain needs, was a step in the right direction for an increased interest in the topic.
The first law went into effect on July 1, 1982, with an expiration date of June 30, 1985. During that time, interest in child passenger safety became more apparent and amendments in accordance with research conducted by HSRC were made to the original law that would increase safety and protection for children while in a motor vehicle. Under the reinstated law, the age of children required to be in a safety restraint increased to age 4. Through continued research and evaluation outcomes and passionate advocacy by proponents of strong child passenger safety laws, the North Carolina law has evolved into what it is today:
Children less than age 16 in front or back seats are covered under the NC Child Passenger Safety law.

A properly used child restraint device (CRD) is required if the child is less than 8 years old AND weighs less than 80 pounds. Most parents and other care givers will be able to comply by using belt-positioning booster seats for children between 40 and 80 pounds. The child must be within the weight range for the child restraint/booster seat and it must meet Federal standards in effect at time of manufacture.

Children may be secured in a properly fitted seat belt at age 8 (regardless of weight) OR at 80 pounds (regardless of age) — whichever comes first. Placing the shoulder belt under a childís (or adultís) arm or behind the back is both dangerous and illegal.