HSRC produces updates to national Child Passenger Safety training curriculum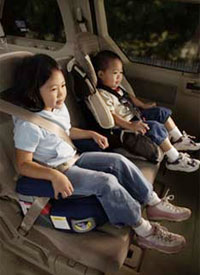 Child passenger safety is an important area of highway safety. Each year, over 250 children in North Carolina alone are saved from death or serious injury due to a strong passenger safety law paired with local education and enforcement programs.
As experts in the field of child passenger safety (CPS), HSRC was awarded a contract by the National Highway Transportation Safety Administration (NHTSA) to produce the updated curriculum used by CPS instructors in training other individuals to become certified CPS technicians.
Child passenger safety certification training classes are conducted by a variety of local, state and national agencies and organizations and are designed to teach individuals the technical and instructional skills needed to serve as child passenger safety resources for their organization, community or state. Those who successfully complete the training workshop are eligible to receive national certification as a Child Passenger Safety Technician through the Safe Kids Worldwide Child Passenger Safety Certification program. Nationwide there are currently 30,000 certified CPS technicians and over 1350 certified instructors.
With the final phase of the project to be completed in early 2008, the project allowed the Center the ability to review the existing curriculum and offer suggestions for technical content and instructional methods, while also serving as a production house for the curriculum by producing the manuals and accompanying presentation slides for the training classes.
The first nationally standardized curriculum for child passenger safety was published by NHTSA in 1997 in collaboration with the National Child Passenger Safety Board, an organization that provides program direction and technical guidance to states, communities and organizations as a means to maintain a credible, standardized child passenger training and certification program.
For more information on Child Passenger Safety training courses, please visit www.cpsboard.org/.
For more information on North Carolina CPS training classes, please visit www.buckupnc.org.