HSRC News Briefs
HSRC Director retires following 40 years of service to highway safety

HSRC Director Doug Robertson retired following 40 years of service to the field of highway safety in December 2005. HSRC Deputy Director David Harkey has been named interim director as the search for a new director for the Center begins.
Throughout his research career, Dr. Robertson has served as the principal investigator on numerous transportation safety studies including work on symbolic pedestrian signal displays that led to the adoption of the "hand-walking man" symbols as a national standard for pedestrian signals in the United States.
Prior to coming to UNC, Dr. Robertson was a vice-president with Science Applications International Corporation and TransCore in Alexandria, VA. His career has included work as a professor of civil engineering at the University of North Carolina at Charlotte. He has also held positions with ITS America, the National Highway Traffic Safety Administration, the Federal Highway Administration, and BioTechnology, Inc.
Dr. Robertson holds a Ph.D. in civil engineering from the University of Maryland. In March 2003, he retired after 37 years in the Army and the Army Reserves. In his last assignment, Major General Robertson served as the Commanding General of the 108th Division, a unit of more than 3,700 soldiers located across North and South Carolina, Georgia, Florida, and Puerto Rico.
Center researchers participate in international transportation conference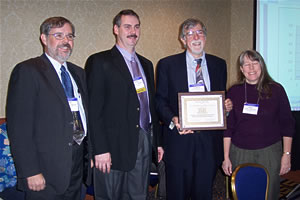 HSRC researchers and staff attended the 85th Annual Meeting of the Transportation Research Board (TRB) in January 2006, where over 10,000 transportation experts from around the world assembled to teach and be taught the latest innovations in transportation research.
Researchers and staff from the Center actively participated in the event by presenting their research, presiding over select sessions and discussing recent trends in transportation safety.
HSRC highlights from the TRB Annual Meeting include:
HSRC Interim Director David Harkey presented "Strategies for Improving Highway Safety Data" at the Identification of Data Needs for Highway Safety Manual session.
Harkey accepted the 2006 Outstanding Paper Award from the TRB Pedestrian Committee for the paper submission of "Development of an Intersection Prioritization Tool for Accessible Pedestrian Signal Installation." In addition to Harkey, the paper's authors include Daniel Carter, HSRC engineering research associate, as well as Billie Louise Bentzen and Janet Barlow with Accessible Design for the Blind.
Harkey and Carter were also active in other sessions, presenting "Observational Analysis of Pedestrian and Motorist Behaviors at Roundabouts in the United States," at the Pedestrian Safety and Operations poster session and "Observational Analysis of Bicyclist and Motorist Behaviors at Roundabouts in the United States" at the Designing for Safety: Bicyclist Behavior on and off the Road session.
At a poster session focused on law enforcement and truck safety, Senior Transportation Research Engineer Raghavan Srinivasan presented "Safety Impacts of Differential and Uniform Car-Truck Speed Limits on Illinois and North Carolina Interstates."
Charles Zegeer, associate director for engineering and planning and PBIC director, and Daniel Carter presented "Index for Assessing Pedestrian Safety at Intersections" at the Pedestrian and Safety poster session, where Zegeer also paired with Laura Sandt on "Characteristics Related to Midblock Pedestrian-Vehicle Crashes and Potential Treatment."
Within the Feminization of Aging: Transportation Implications session, Associate Director for Social and Behavior Research Jane Stutts presented "Safety Trends for Older Women as Drivers, Passengers, and Pedestrians."
Lauren Marchetti, program manager and PBIC deputy director, led "Safe Routes to School" during the Emerging Issues in School Transportation session.
"Growth of Knowledge through Research" was presented by Senior Research Scientist Forrest Council at the Road Safety: The Road Ahead session that discussed the future challenges of road safety management.
Council also moderated a day-long workshop on Cause, Effect and Intervention: Current and Future Directions in Road Safety Research, which served as a forum to discuss current road safety research approaches and suggest promising future directions.
The TRB Annual Meeting covers all modes of transportation, drawing interest from researchers, policy makers and administrators as well as academic, industry, and government representatives. For more information on the annual meeting, please visit www.trb.org.
Center has new mailing address
Please note there is a change in the Center's mailing address. The Center's new correct mailing address is:
The University of North Carolina Highway Safety Research Center
730 Martin Luther King, Jr. Blvd. CB 3430
Chapel Hill, NC 27599-3430