HSRC News Briefs
UNC Highway Safety Research Center establishes scholarship
The UNC Highway Safety Research Center (HSRC) announces the first annual scholarship for graduate students interested in pursuing a career in highway safety.
The $1,000 scholarship is available to a full-time graduate student with career goal emphasis on transportation safety who will be enrolled in the fall of 2006 at any of the University of North Carolina campuses.
"The field of transportation safety is currently going through a transition period that has created many new career opportunities," said HSRC Interim Director David Harkey. "We hope this scholarship will serve to encourage more students to pursue a career in one of the many disciplines of highway safety."
Candidates will be evaluated based on academic performance, career goals, extracurricular and professional activities, work experience and a 1,000-word essay on a current highway safety issue.
The scholarship will officially be awarded to the graduate student finalist during HSRC's 40th anniversary dinner event scheduled for Thursday, October 5, 2006.
The deadline for applying is July 1, 2006, and the application can be downloaded at www.hsrc.unc.edu/scholarship/.
HSRC encourages visibility during Yield to Heels event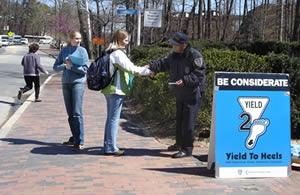 HSRC collaborated with the UNC department of public safety to educate the campus' pedestrians on the importance of visibility during the spring event for Yield to Heels, an on-campus pedestrian safety education campaign.
Nighttime presents the greatest risk of a pedestrian being involved in a crash as factors such as glare and low visibility make it more difficult for motorists to see them. According to the National Highway Traffic Safety Administration, almost half of pedestrian fatalities occur at night between 6:00 p.m. and midnight.
"Even a pedestrian wearing white can only be seen from about 180 feet away, which does not allow ample time for a vehicle traveling 40 mph to stop after seeing the pedestrian," says David Harkey, HSRC's interim director.
In order to encourage visibility, Yield to Heels volunteers distributed educational fliers and retro-reflective items to pedestrians at crosswalks across campus. Reflective gear can be seen by motorists up to 500 feet away at nighttime, making pedestrians and bicyclists much more visible to motorists.
Yield to Heels also aims to clear up myths about traffic safety for both pedestrians and drivers. Many pedestrians believe that seeing a "walk" signal means that it is safe to walk without checking all directions for vehicles. Pedestrians should always look across all lanes and in all directions before stepping out into an intersection, including looking for turning vehicles, regardless of what the signal displays. Equally, drivers need to slow down and be ready to yield to pedestrians in crosswalks.
For more information on pedestrian safety, please visit http://www.hsrc.unc.edu/y2h or http://www.dps.unc.edu.
HSRC launches redesigned Web site
HSRC is pleased to announce the launching of its newly redesigned Web site in conjunction with the 40th anniversary of the Center.
The site features detailed information about current research projects, a bibliography listing of published research, a news room featuring news releases, links to project Web sites maintained by the Center and an option for viewers to sign up for email updates from the Center.
New features include a flash movie and time line chronicling the Center's achievements over the past 40 years. To visit the site, please go to www.hsrc.unc.edu.