Motorcycle education program aims to reduce crash rate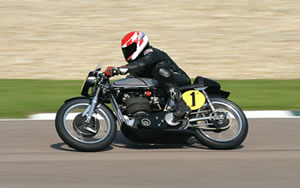 HSRC has partnered with the Motorcycle Safety Foundation (MSF) to conduct a study of the benefits of motorcycle safety instruction. The grant from MSF and the National Highway Traffic Safety Administration (NHTSA) will be used to evaluate the safety benefits of continuing participation in rider education.
From 1997 to 2004, motorcyclist fatalities in the U.S. increased approximately 89 percent from 2,106 to 4,008. According to the National Agenda for Motorcycle Safety, research identified braking, cornering and swerving as crash avoidance skills often absent among crash-involved motorcyclists. The MSF Rider Education and Training System (RETS) is composed of a series of interrelated courses and other training opportunities designed to improve crash avoidance skills, increase knowledge and improve risk management strategies.
"Our widely recognized rider education and training system used in this study is built upon the principle of safety renewal," said Tim Buche, president of the MSF. "We believe that motorcycle-riding and decision-making skills can diminish over time. It's important to refresh or renew abilities to improve a rider's knowledge, skill and risk management strategies."
This project will allow HSRC to test how motorcycle crash avoidance skills are improved and how crashes are prevented with the addition of extended opportunities for riders to renew their skills and refresh their safety mindset. "The Discovery Project," as the study has been coined, will compare data from riders who participate in only the basic motorcycle safety class to riders who participate in the basic motorcycle safety class as well as a variety of continuing education classes.
"We welcome the opportunity to be part of research that for the first time takes a comprehensive, field-based look at the effects of participation in a rider education and training system over several years, and its potential to ultimately reduce the number of crashes," said Jane Stutts, HSRC's associate director for social and behavior research.
The awarding of the funding was announced on March 28 at the 2006 International Motorcycle Safety Conference in Long Beach, California, where experts in motorcycle safety from 20 countries gathered to share their latest research.
"We are pleased to contribute to such a significant study, and are looking forward to working with the MSF and NHTSA, two organizations that have such a strong history in championing motorcyclist safety," said Stutts
Since 1973, the Motorcycle Safety Foundation® (MSF) has set internationally recognized standards that promote the safety of motorcyclists with rider education courses, operator licensing tests and public information programs. The MSF works with the federal government, state agencies, the military and others to offer training for all skill levels so riders can enjoy a lifetime of safe, responsible motorcycling. The MSF is a not-for-profit organization sponsored by BMW, Ducati, Harley-Davidson, Honda, Kawasaki, KTM, Piaggio/Vespa, Suzuki, Triumph, Victory and Yamaha.