Web-based resources developed for Safe Routes to School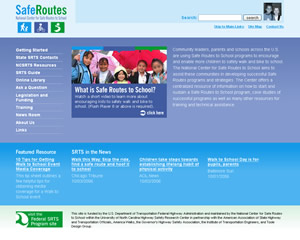 The National Center for Safe Routes to School, within the UNC Highway Safety Research Center, has developed several new Web-based technical assistance tools to help communities with their Safe Routes to School programs. With the launch of the Center's new Web site, SRTS program leaders now have access to a comprehensive Online reference manual, an Online library of SRTS materials and a searchable "Question and Answer" database.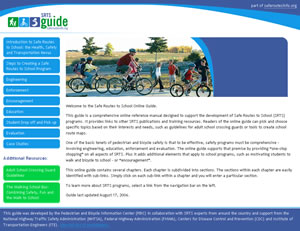 The Safe Routes to School Guide is a comprehensive online reference manual designed to support communities in developing Safe Routes to School (SRTS) programs. Readers of the SRTS Guide will access Safe Routes to School information complete with references and resources on the following topics:
Introduction to Safe Routes to School
Steps to Creating a Safe Routes to School Program
Engineering, Enforcement, Encouragement and Education
Student Drop off and Pick up
Case Studies
Evaluation (to be completed Winter 2006)
The SRTS Guide also includes two additional pullout resource guides titled Adult School Crossing Guard Guidelines and The Walking School Bus: Combining Safety, Fun and the Walk to School.
The Center has also launched an Online Library, a centralized, Web-based collection of Safe Routes to School-related materials and documents compiled by practitioners and program leaders from across the United States. Users of the library can search through the Web-based library to find helpful resources for your Safe Routes to School program. Program leaders and participants can also upload their own Safe Routes to School materials into the library to assist others in the development and implementation of programs.
The NCSRTS Web site also includes an "Ask a Question" section that provides users a series of technical questions and answers relating to Safe Routes to School. Users can either search through the questions by using a keyword or search by category. If users do not find their answer within the database, there is also a mechanism for them to submit a question to NCSRTS.
In addition to these interactive tools, the site also includes a resources section that includes evaluation forms, marketing materials and other program resources. The Center also operates a comprehensive News Room that includes program news releases and recent news articles pertaining to Safe Routes to School.