For more information, please contact:
Katy Jones
919.843.7007
HSRC, UNC continue quest for on-campus transportation safety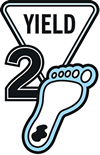 Student volunteers, public safety officials and HSRC staff gathered at several crosswalks throughout the campus of the University of North Carolina at Chapel Hill in the fall to recognize Yield to Heels Day. Over 4,500 educational brochures and 700 t-shirts were distributed to UNC students, faculty and staff as well as visitors to the campus. The message to pedestrians, bicyclists and drivers: Be Aware, Be Considerate, Be Safe.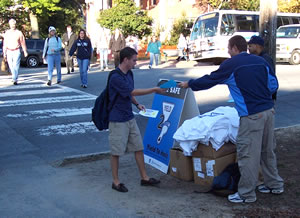 "While the total number of pedestrian deaths in the United States has decreased dramatically in the past 20 years, they still account for 11 percent of motor vehicle deaths," said Doug Robertson, director of the Highway Safety Research Center at UNC. "Our goal is to give pedestrians, bicyclists and drivers the information to make safe decisions when traveling both on and off campus."
Since the year 2000, more than 590 citations have been issued to motorists for failure to yield to pedestrians in marked crosswalks, and 894 speeding citations (mainly in areas with a high volume of pedestrians) have been written. The UNC Department of Public Safety has also conducted over 389 pedestrian safety awareness programs in residence halls, fraternities and sororities, and other campus groups.