HSRC researchers participate in international transportation conference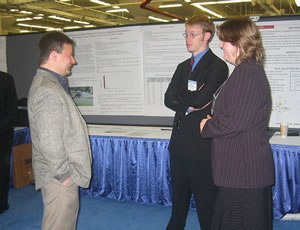 HSRC researchers and staff gathered with members of the transportation community from across the globe for the 84th Annual Meeting of the Transportation Research Board (TRB) in Washington, DC on January 9-13.
The following researchers from the Center presented during the conference on a wide variety of safety-related topics:
Engineering Research Associate Daniel Carter presented "Operational and Safety Effects of U-Turns at Signalized Intersections" during a poster session entitled Issues in Geometric Design and Effects of Design on Operations.
"A Multi-Jurisdictional Safety Evaluation of Red Light Cameras" and "Guidance for Implementing Red Light Camera Programs Based on an Economic Analysis of Safety Benefits," two papers co-authored by Senior Research Scientist Forrest Council, were presented by Mike Griffin of the Federal Highway Administration during the Roundabout Research and Implementation session.
Research Associate Arthur Goodwin presented "Reducing College Student Drinking and Driving with Social Norm Intervention" during a session entitled Young Drinking Drivers: Who Are They and How Can We Influence Them?
David Harkey, HSRC deputy director, presented "Data Needs: Getting Ready to Use the Highway Safety Manual" during the Need Data—How Do You Get It? session.
Senior Research Psychologist Ronald Hughes presented the "Overview of Planned Approach" for the National Cooperative Highway Research Program's project 3-78, "Crossing Solutions at Roundabouts and Channelized Turn Lanes for Pedestrians with Vision Disabilities."
TRB is a division of the National Research Council that works to promote innovation and progress in all modes and aspects of transportation. The annual meeting included approximately 9,000 transportation professionals from around the world and more than 2,500 presentations covering all modes of transportation.